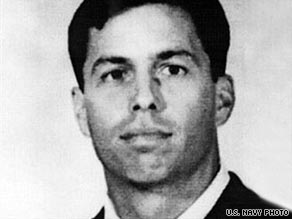 Navy Capt. Michael Speicher's remains have been identified, the U.S. military announced Sunday.
An Iraqi civilian told U.S. forces in Iraq in early July about the location of the crash that killed Speicher, according to the statement. U.S. Marines in Anbar province went to the site and spoke to another Iraqi who told them he witnessed Bedouins burying Speicher's remains in the desert after the crash, the statement said.
A search of the area uncovered the remains, which were flown to Dover Air Base last week and positively identified as Speicher's by the Armed Forces Institute of Pathology, the statement said.
Recovered remains included bones and skeletal fragments, and positive identification was made by comparing Speicher's dental records with a jawbone recovered at the site, the statement said.
Speicher was a lieutenant commander when shot down, but because his status remained uncertain, he received promotions during the past 18 years, reaching the rank of captain.

He was originally listed as "Killed-In-Action/Body-Not-Recovered" in May 1991. That status changed in 2001 to "Missing in Action," and then to "Missing/Captured" in 2002 based on sighting reports inIraq. Those sightings have since been discredited. His status was changed back to MIA earlier this year.

In the six years that the United States has been in Iraq for the second Gulf War, many leads and alleged sightings of Speicher have been investigated and found to be false.
The Speicher family has worked closely with the Navy to ensure the hunt for him would not stop.